Yesterday was my day to shop at the Vera Bradley Outlet Sale. Now I'm sad that I have to wait another year for the fun.
A few notes about my experience...
Due to circumstances out of my control, we left later than I had planned and then face some more delays because of construction. As a result, we arrived about 20 minutes before our session started and we were directed to what we were told was line 3.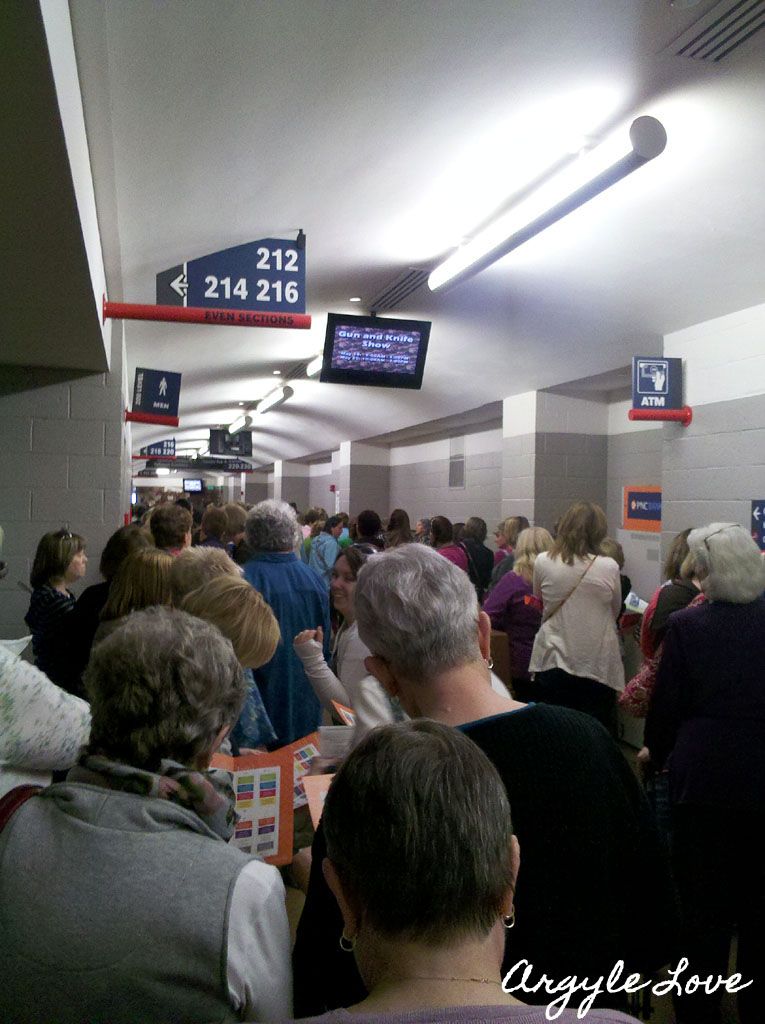 I really don't like how the lines worked this year. Last year, we arrived about 10 minutes earlier and we were in one big line. We got into the sale not long after it started. The year, I did not enter the sale until 11:40. That's very frustrating when my tickets says 11:00.
I'm not sure how to improve the situation, but something should be done. Perhaps tickets could be scanned as people enter the line? And have more than 3 people to scan tickets? How about wristbands handed out after scanning the ticket? I really did not like that I lost 40 minutes of shopping time. And the only action Vera Bradley took was to give us an extra 15 minutes to shop. So I lost 25 minutes of shopping time.
25 minutes may not seem like much, but due to the lack of information, it was much harder to shop this year. In previous years, we've received a price list that lists most of the styles, their price, and their exact location in the sale. This year we got a map that only listed categories, not specific styles. I had to spend at least 10 minutes at the beginning trying to find the Stephanie purses because that's the one I wanted.
It felt much more crowded this year as well. And despite what I said, I saw many strollers and young children. People, I should not be tripping over your children when I'm trying to shop. I'm having a hard enough time avoiding the adults in the crowd without your children underfoot.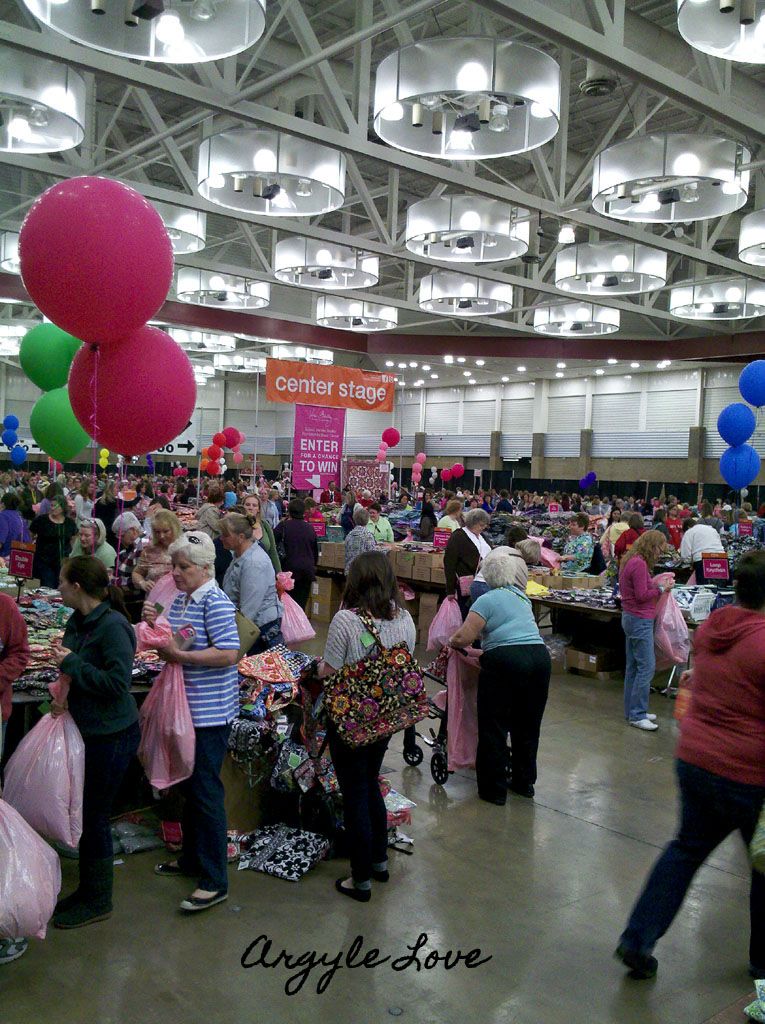 There was certainly a lot of inventory and I did see many of the patterns I predicted earlier. I even saw a few things in the winter colors. I did not get anything in Island Blooms, but I do love that pattern now that I've seen it in person.
My biggest disappointment was the Turn Lock Wallets. It's my favorite wallet and I was hoping to get a new one that went with the new purse I'd be picking up at the sale. Unfortunately, there was only one pattern available, for some reason. It was Loves Me, which I do not like, so I passed. I did consider an Opera Wallet, but I didn't like it as much as the Turn Lock. I guess I'll be checking out the Vera Bradley website and eBay.
So, what did I buy? Here, let me show you...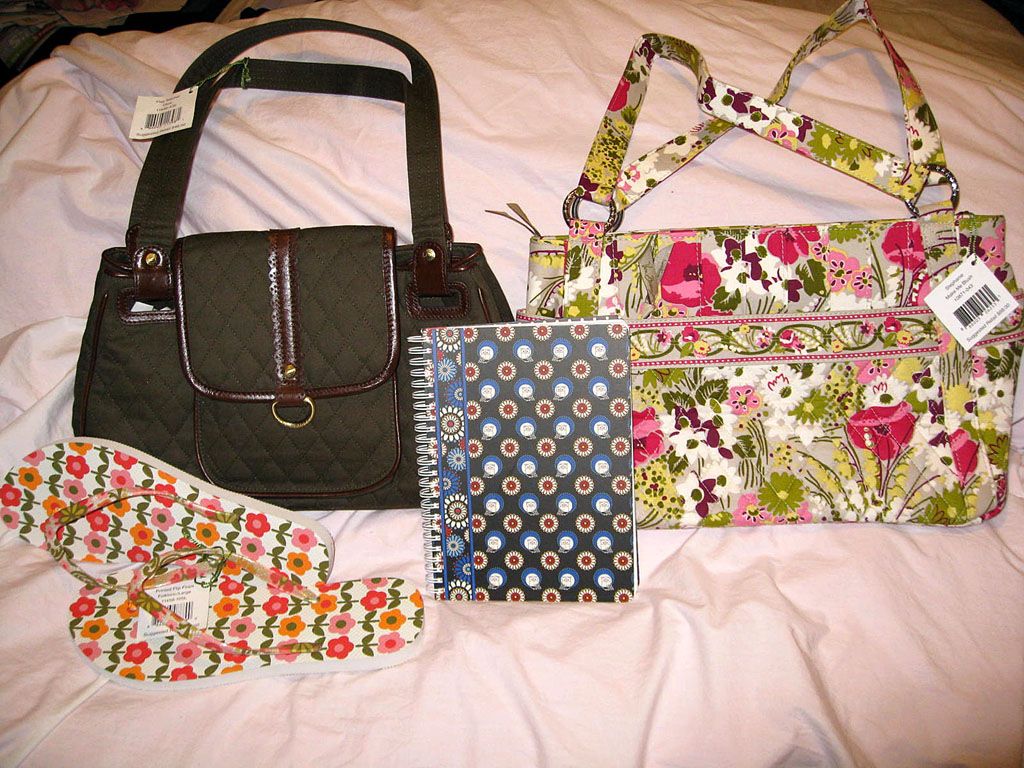 Stephanie (of course) in Makes Me Blush
Mini Notebook in Night Owl (Is it just me or has this pattern been around forever? Good thing I love owls!)
Flip Flops in Folkloric
Middleton Collection Flap Satchel
I just couldn't resist that Middleton bag. I think it'll be great for dressier situations or when I just don't want to carry my patterned purses. And with a name like Middleton, you know I was hooked!
There were a few other things I eyed and I'm considering going back this weekend. I'd like to see what is still available and how the prices get marked down. If anything was marked down at my session, I didn't hear about it.
After we'd checked out and had lunch, we headed over to the Vera Bradly store at Jefferson Pointe. I wanted to see the preview of the new fall colors. This fall, Vera Bradley will release six new colors in two separate releases.
The first release will be Indigo Pop, Paisley Meets Plaid, and Va Va Bloom. The second release will be Canyon, Provincial, and Portobello Road.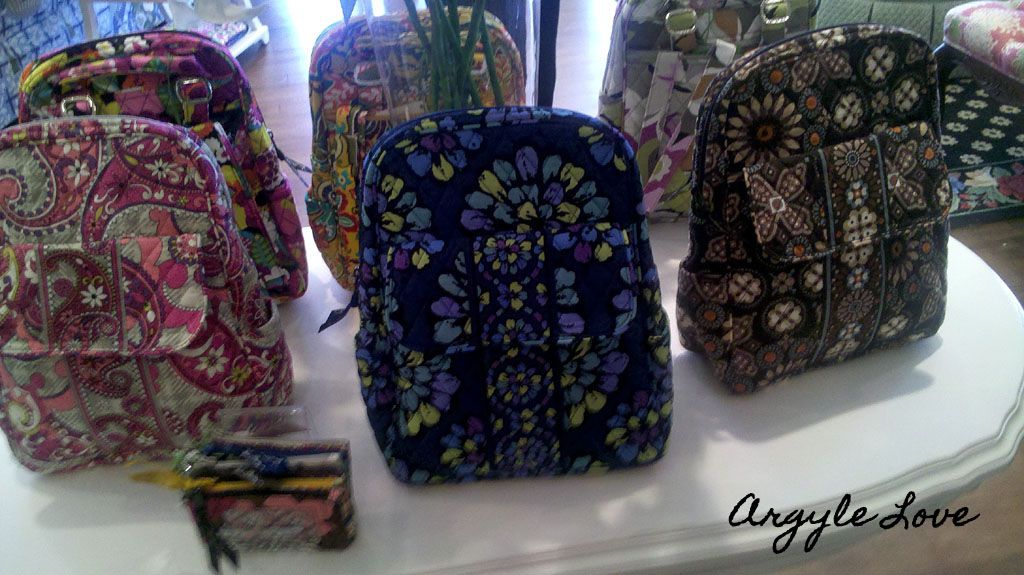 Paisley Meets Plaid, Indigo Pop, and Canyon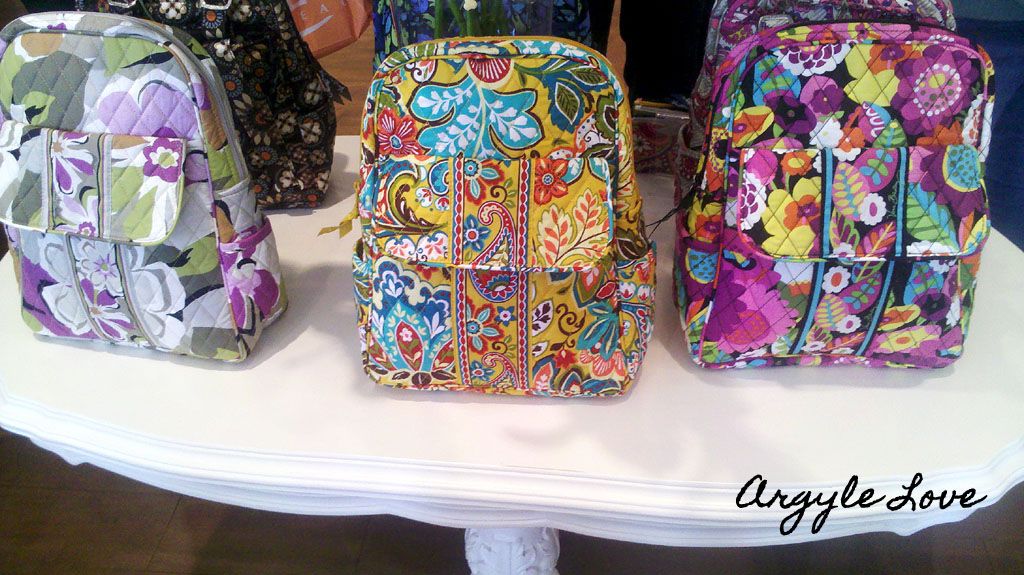 Portobello Road, Provincial, and Va Va Bloom.
I'm so glad I got a chance to see these colors in person. I love Indigo Pop! The colors are great and the pattern is pretty. I like the colors of Paisley Meets Plaid and the plaid background, but I don't like paisley. The other colors didn't really thrill me.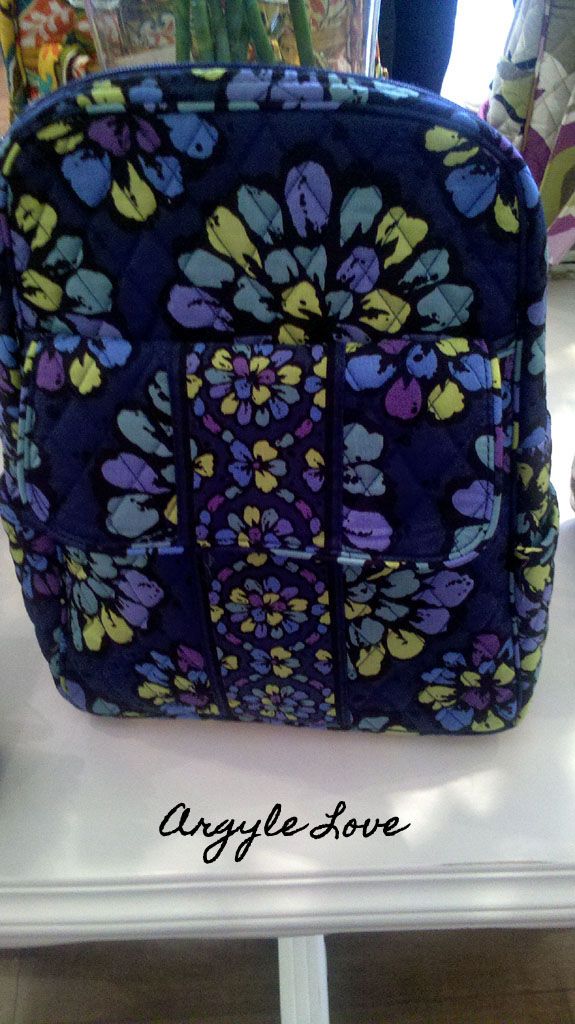 Have any questions about the Outlet Sale or Vera Bradley? Feel free to ask them in the comments or over on the Argyle Love Facebook page.
What did you get at the Vera Bradley Outlet Sale?