If I had to pick at theme of our wedding, it would definitely be argyle. M and I love argyle and I tried very hard throughout our wedding planning to include it as much as possible without being too crazy.
personal photo
I mentioned before that I really wanted argyle invitations, but without making them ourselves, I wasn't sure what to do. There are options available on Etsy, but I was a little leery of going that route.
Then my mom found these invitations from
Invitation Consultants
online and they were in our wedding colors. I'm not sure who was reading my mind when they designed these, but I love them. They were absolutely perfect. And we got great customer service as well. After I ordered the invitations, I was emailed a proof before they were printed. Thank goodness for that because I actually had the wrong address for our church. It wasn't too big of a deal since it was actually the address of the school that is attached to the church, but I was glad to be able to catch it and have it fixed.
The invites came quickly and were packaged very well. I was pleased with everything and would order from them again. Plus, they have coupon codes, so I also was able to save some money.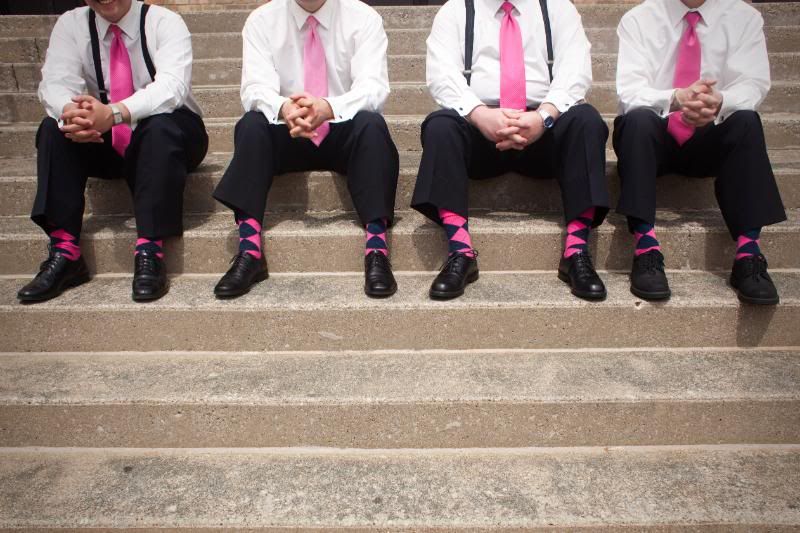 You may remember that we gave the guys these argyle socks at the rehearsal dinner. They were an obvious way to incorporate our love of argyle and I spent a lot of time trying to find socks that went with our wedding colors. I was delighted to find the perfect socks at
Tons of Socks
. They were pricey socks since they're Polo by Ralph Lauren, but since the only other possibility was knee high golf socks, I was willing to spend the money. I got great customer service and would order again.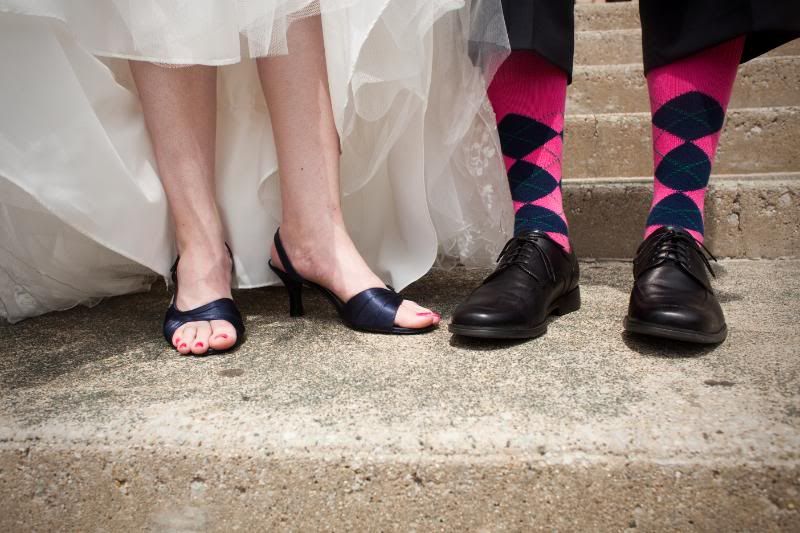 Most of our argyle details were incorporated in our reception.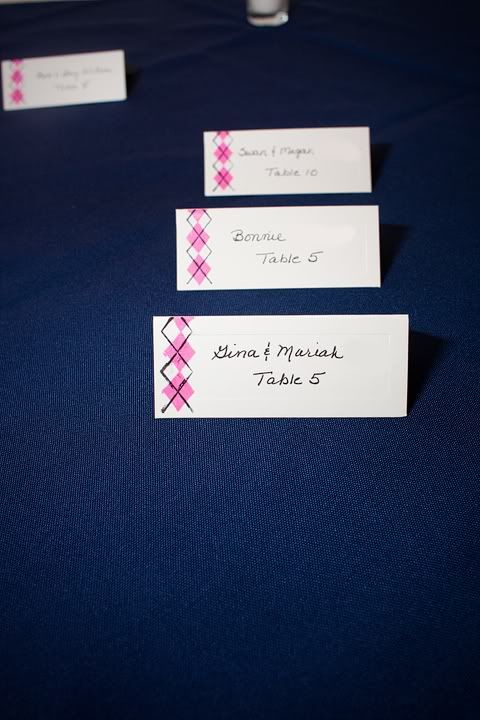 Here's one of my DIY attempts for the wedding. I bought plain place cards at Micheal's or Hobby Lobby (I really don't remember, but they both have them and they both have coupons.) The argyle stamps I bought on Ebay awhile ago when I was thinking about doing the invitations myself. They are made by a company called
Stampin' Up!
, but I believe they no longer carry these stamps.
As you can see, it's not easy to get the stamps to line up properly, but I think it gave them a "made with love" look. I made my mom write all the names because her handwriting always looks nice.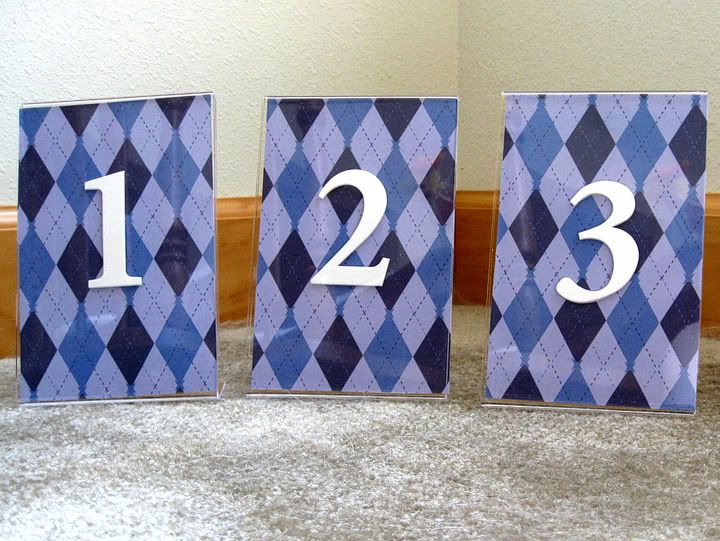 personal photo
Here's another of my DIY projects. This one was really easy. I bought the argyle paper at Michael's, the photo holders at the
Christmas Tree Shop
, and the numbers are house number stickers from Walmart. They were the only numbers I could find that were big enough. I searched all the scrapbooking stores before I bought these. I think I saw something like this on
Weddingbee
.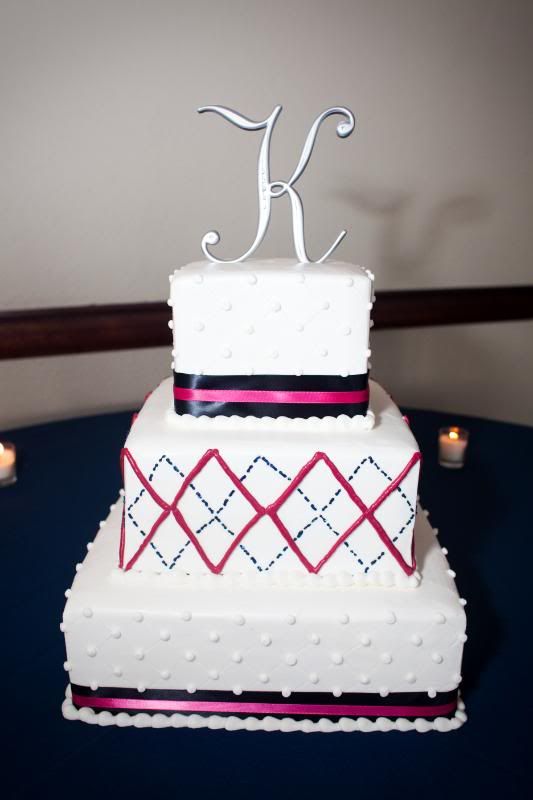 I've already shown you are awesome cake, but I had to share it again. I came up with the argyle design myself, and our amazing baker,
Adam's Cake Shop
did a great job with it.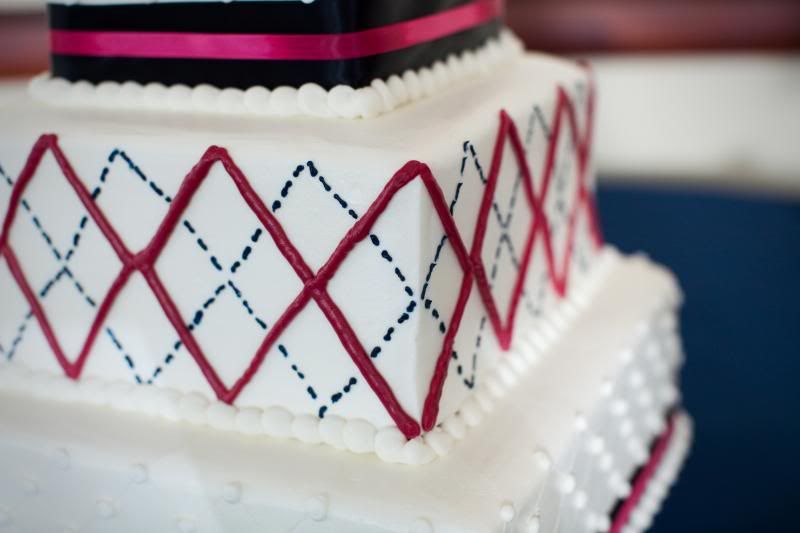 We loved our cake so much, that Adam's is the only place we order cakes from anymore. They do all our birthday and anniversary cakes.
And our cake was so unique, it was featured in a local wedding magazine. I was so excited to find it when I was flipping through it one day. I showed it off to everyone!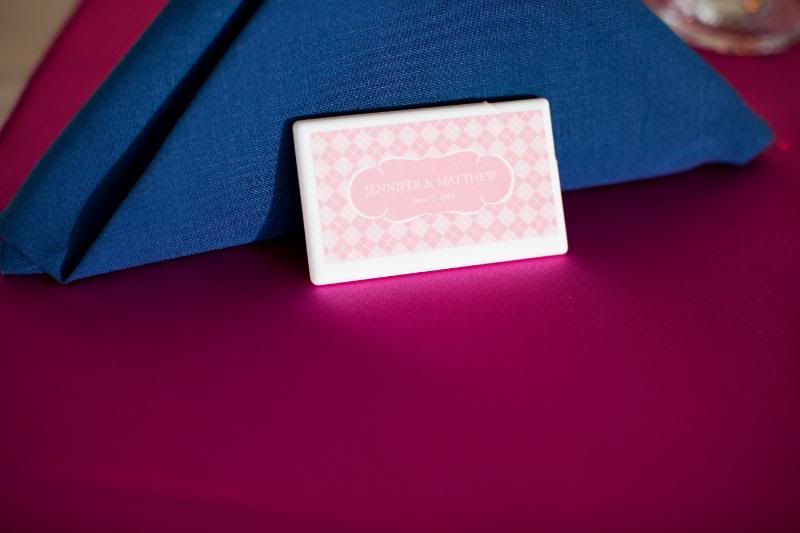 Our final argyle detail was our favors. I did a lot of searching and finally decided on these mints in an argyle case. I got them from
The Knot
while they were having a sale and paid $1 each. I ordered way too many though, so we still have some tucked away. But everybody liked them. Who couldn't use some mints for their purse? Especially after all the drinking that happened at our reception!
In the end, I'm happy with the amount of argyle we included in our day. I think we succeeded in having a nicely themed wedding without it being cheesy or weird.
All photos by
Amanda Fales Photography
unless otherwise noted.