On the second day of our honeymoon, I woke up early thanks to a call from Mickey and Stitch and I was eager to start my day. I'm not a morning person at all, but when you get to eat your breakfast with this view, how could I not make an exception?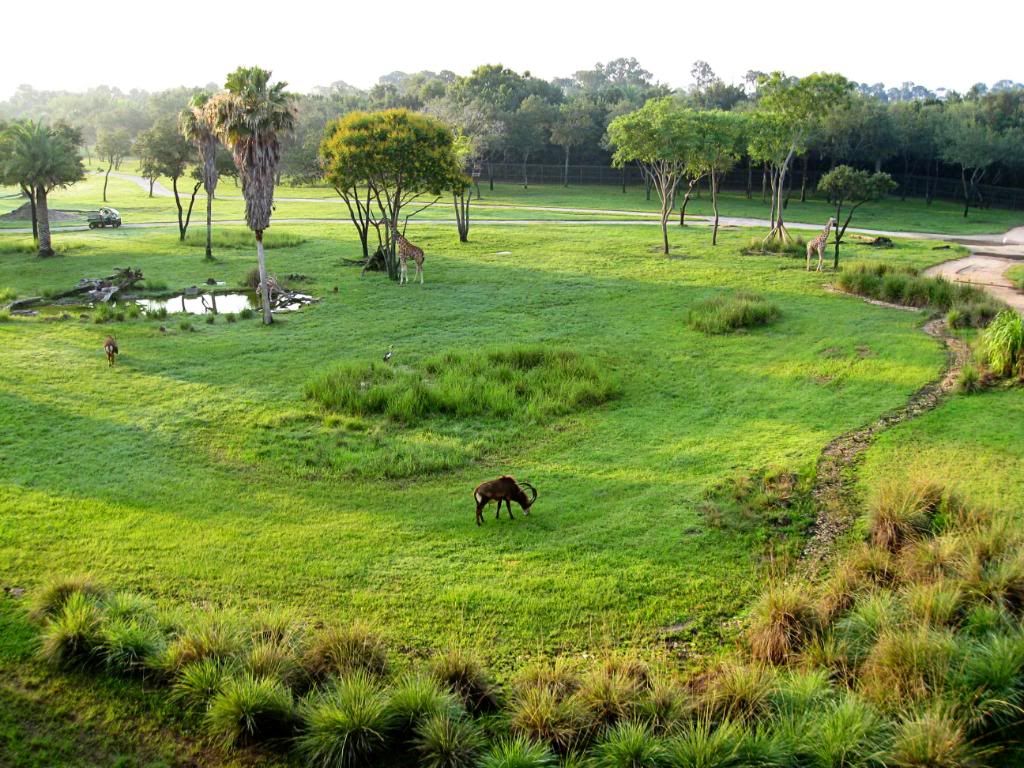 It quickly became my routine for me to check out the view first thing each morning. Then, I'd get ready for the day and eat breakfast on our balcony and apply my sunscreen while watching the animals. This view has completely spoiled me for any other hotel.
I was so glad that we got the side of the hotel with the giraffes. The other side got zebras.
Eventually, we did leave the hotel room. Our first day at the parks, we decided to go to EPCOT. Since we had the rental car, we drove to the park instead of taking the bus provided by Disney. Parking is free for resort guests and it meant we could come and go on our own schedule, not when the bus was available.
Because it's been so long since our honeymoon now, I can't remember exactly what we did and I'm relying on the pictures to help job my memory. So these are not going to be exact minute-by-minute recaps, but they should give a general overview of our days.
For example, our pictures are missing several hours of our morning. I know we went to EPCOT, but apparently, I didn't feel the need to take pictures for a couple hours. Or we took way longer to get ready than I remember.
Anyway, what I typically do when arriving at EPCOT is to head for Soarin' and get Fastpasses because that's the most popular ride at EPCOT. I'm sure we also rode Test Track at some point because that's my favorite ride in Future World.
I do know that at some point, we went on Living with the Land. I don't know why I like this ride so much, but I just love sitting in the boat and looking at all the different ways they are growing plants.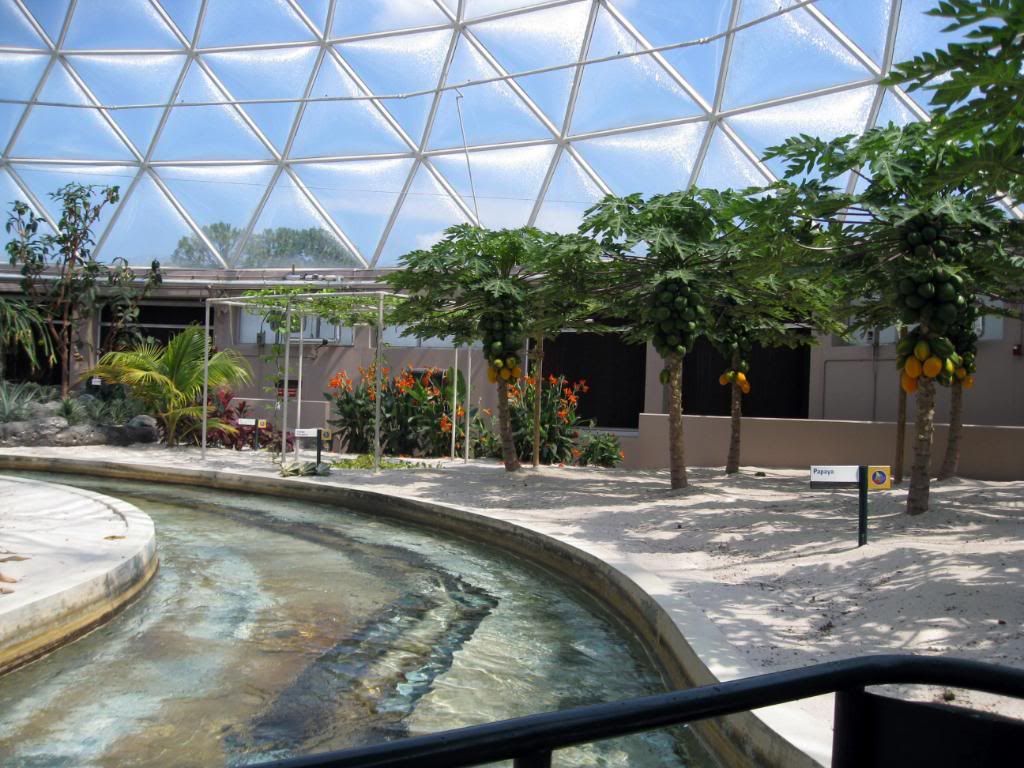 We also went to the Seas with Nemo & Friends and checked out the animals over there.
At some point I know we rode Spaceship Earth. It wasn't open the last time I had been to EPCOT, so I was anxious to ride it for the first time in 20 years.
Eventually, we made our way to the World Showcase, which is my favorite part of EPCOT. I love the theming and it's so easy to think that you just might be in a foreign country for a few minutes.
I always start in Mexico and work my way clockwise, so I assume that's what we did. We probably rode the rides in Mexico and Norway.
We ended up eating lunch in the United States.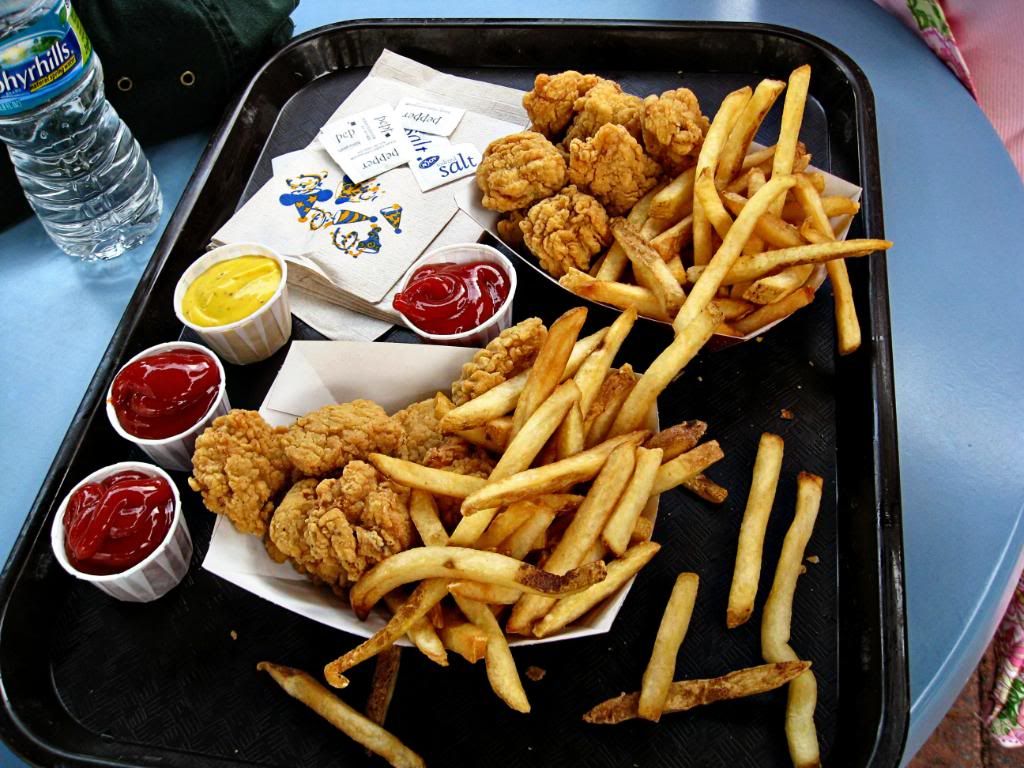 Chicken breast nuggets with fries from the Liberty Inn. These are really good nuggets and I like the fries at Disney.
After lunch, we kept exploring the World Showcase.
I really like the Japan pavilion.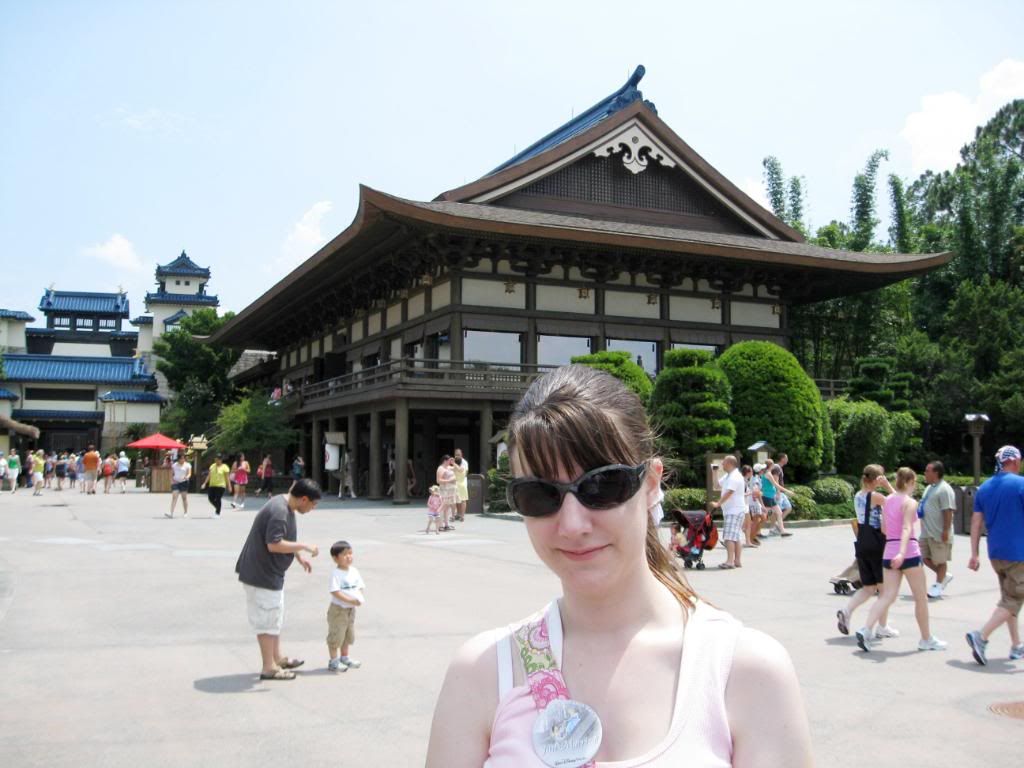 The bottom floor of the building behind me is a Japanese department store, Mitsukoshi Department Store. It's very large and full of fun Japanese products. My favorite part is the kimono room. They have lots of gorgeous kimonos that you can buy and the very friendly Japanese girls that work there will help you try them on and put together a whole outfit.
I also love this koi pond in the pavilion.
Next, we checked out the Morocco pavilion.
I love the architecture and details in this pavilion.
We continued exploring the pavilions and eventually decided we needed a snack. And I knew exactly what I wanted to try. I had read about a snack on the message boards before our trip and I just knew I had to check it out.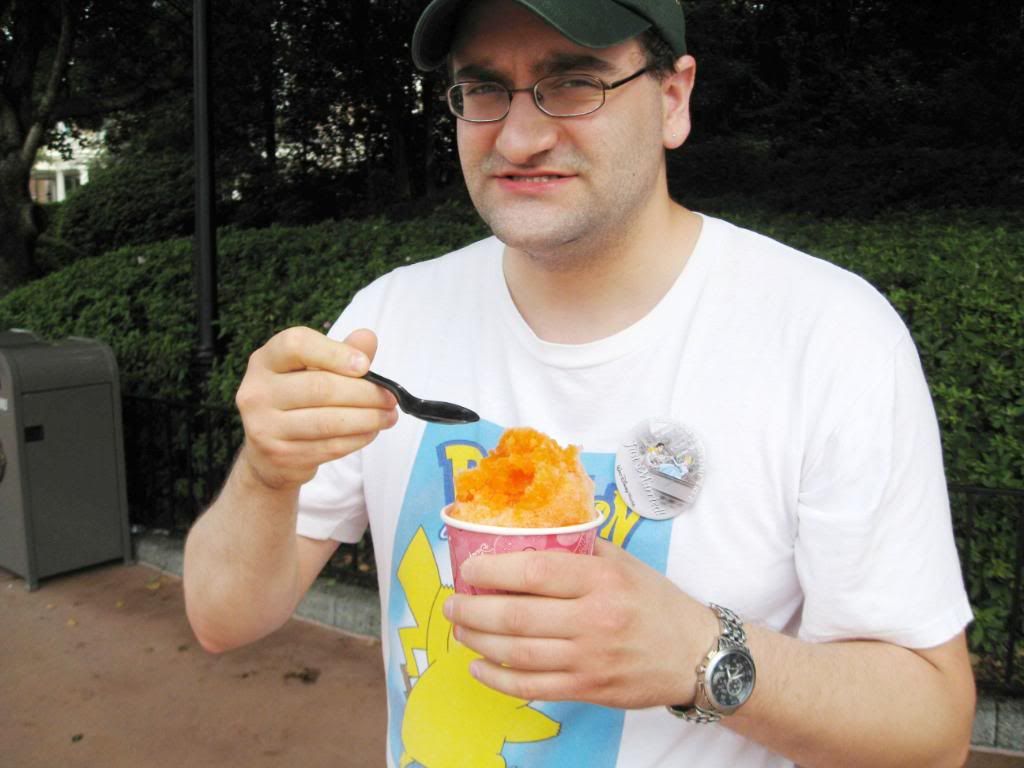 Kaki Gori! Basically, it's Japanese shaved ice. But it is so much better than regular shaved ice. It's smoother and fluffier. And it's topped with fruit syrup. I got cherry and I loved it! M got tangerine and he enjoyed his too.
Look excited! (And yes, he wore a Pokemon shirt on our honeymoon. And he got comments on it from kids and adults.)
We went back to Future World and rode Test Track and then checked out the shops.
We decided to have dinner in the UK and had authentic fish and chips for dinner. Sadly, no picture, but it was yummy. Those chips are amazing. If we lived in the UK, I'd probably eat them every day and weigh 300 pounds.
Looks like we started another trip around the world. Here's Mexico.
Norway, which for some reason is next to Mexico.
We ended up finding a spot on the water here and waited for IllumiNations, EPCOT's firework show. I'd never seen it before, so I was determined to see it and have a good spot.
It was an OK show. I still prefer the Magic Kingdom's show, but that's just me. When the show was over, we headed out of the park and back to the hotel. Time to rest for our busy day tomorrow.