Whenever the husband and I spend the night in Chicago, we book a hotel through Priceline. We like being able to book a 4 star hotel for a night or two at a much cheaper price.
Because we take the train to Chicago, we need to stay some place local to the sites we'll be visiting. And since those sites are usually the museums, we like to stay downtown near the Museum Campus. On Priceline, we always chose the .
On a previous trip to Chicago, we won the Hilton Chicago, which we loved. It was very close to the Museum Campus and the train. We had a nice room with 2 full bathrooms. It was so cool to have 2 bathrooms! So naturally, I was hoping to score the same hotel for our 1st anniversary trip to Chicago in June. (We never could have afforded the Hilton Chicago without Priceline's help.)
However, we didn't get our wish and instead ended up with a room at the Hyatt Regency Chicago. The Hyatt is at the northernmost limit of our Priceline area which was disappointing because it meant we were either going to do a lot of walking or have pay for transportation in Chicago. It's also the largest hotel in Chicago and therefore home to lots of conferences and conventions.
We arrived at the hotel before the check-in time of 3:00 PM, but we were able to check-in and get into our room, which was nice because I did not want to carry my bag around Chicago. We ended up being in a double room on a higher floor. So high in fact, that my ears popped the first time we took the elevator to our room.
Here are some pictures of our room, which I forgot to take until our last day.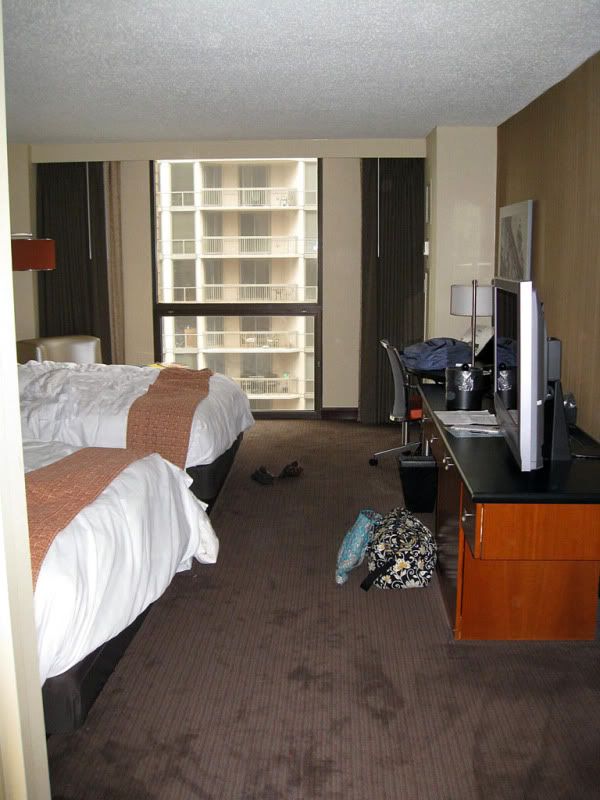 The view from the door. I promise the beds normally look much neater, but this was our last day and maid service hadn't been in the room yet.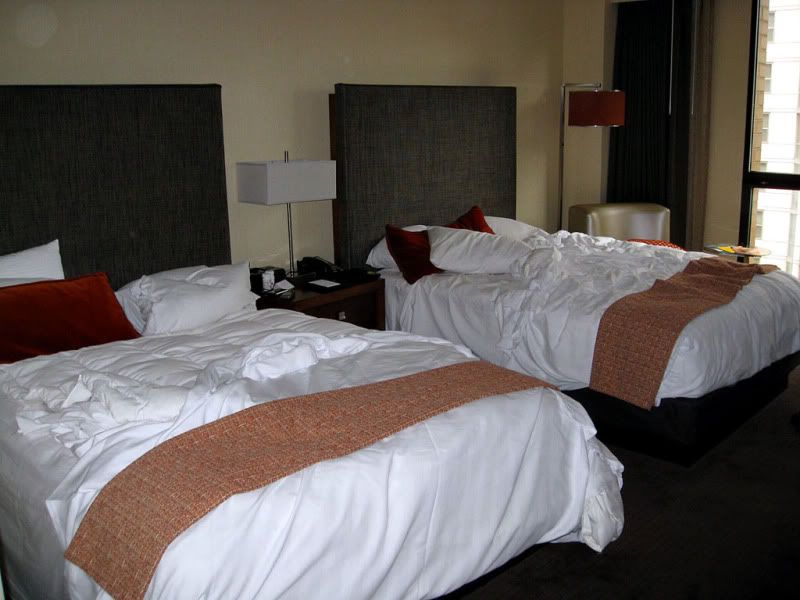 Here are the beds. They were comfortable, but I've come to the conclusion that no hotel has good pillows. Clearly, I need to just travel with my own.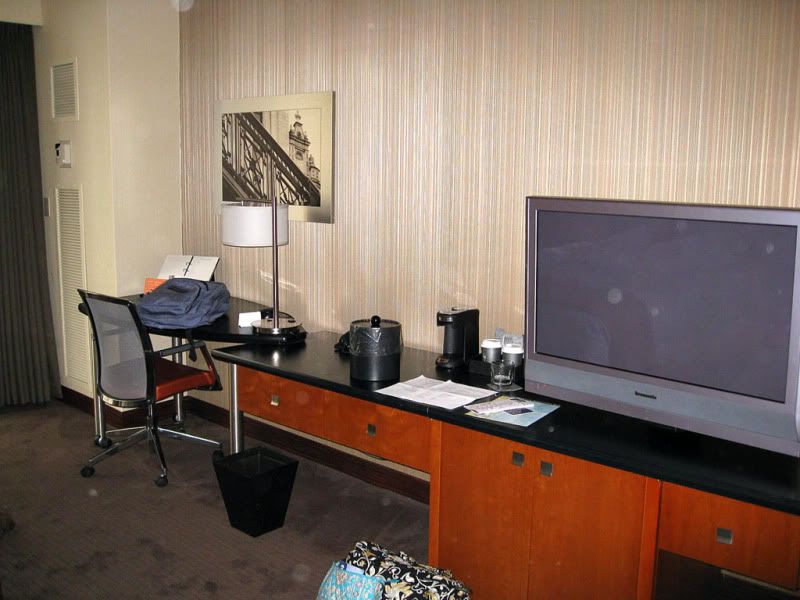 Here's the other side of the room. Desk, coffee maker, TV. The minibar was in those middle cabinets.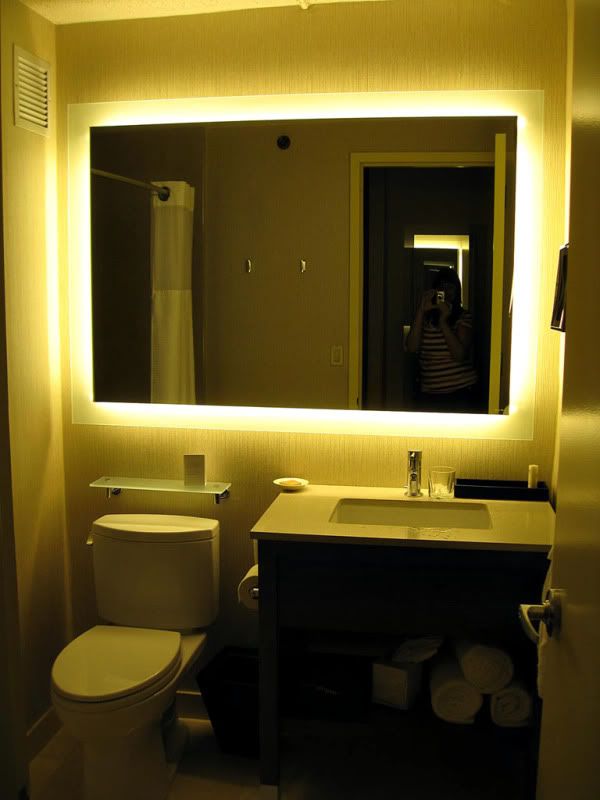 The lighting made it tricky to get a good picture of the bathroom. It was a nice spacious bathroom with nice toiletries and a hair dryer.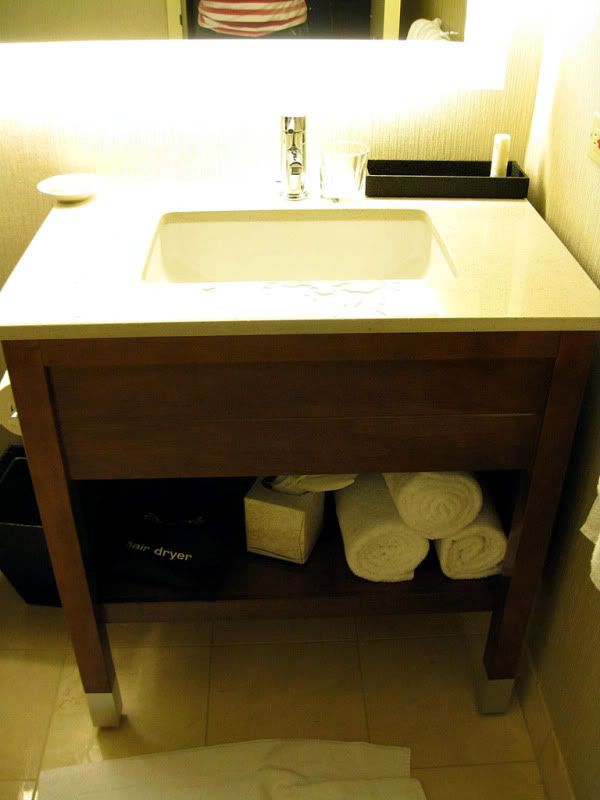 Here's a better shot of the sink.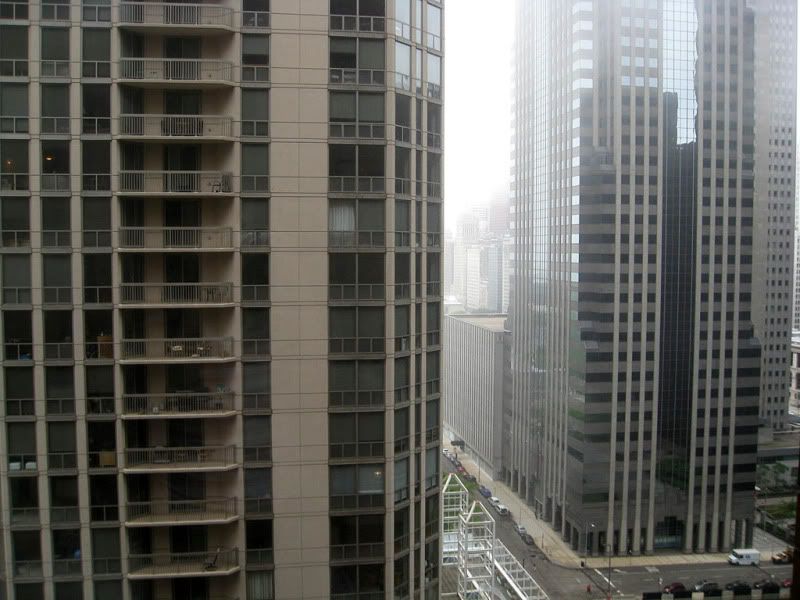 This was our view. Not the greatest, but we actually enjoyed looking into those condos across the way. It was fun to see all the different decorating styles.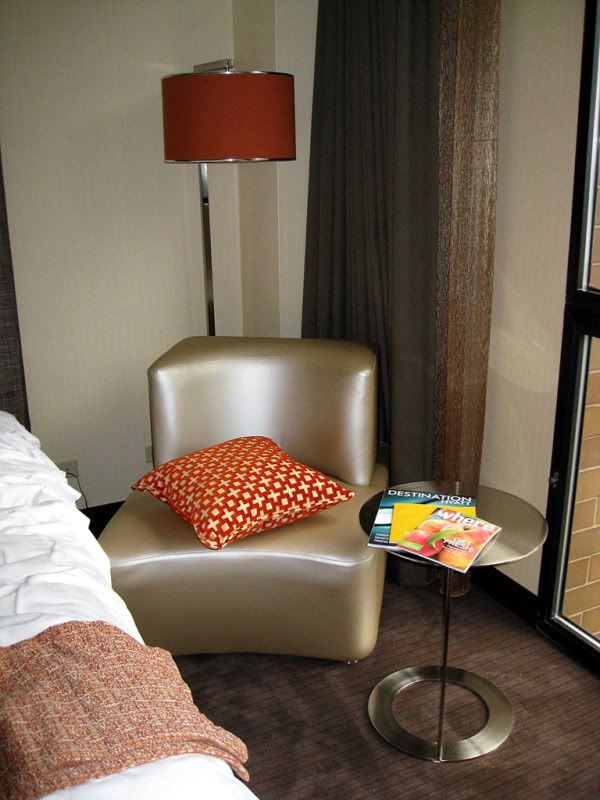 A seating area next to the window.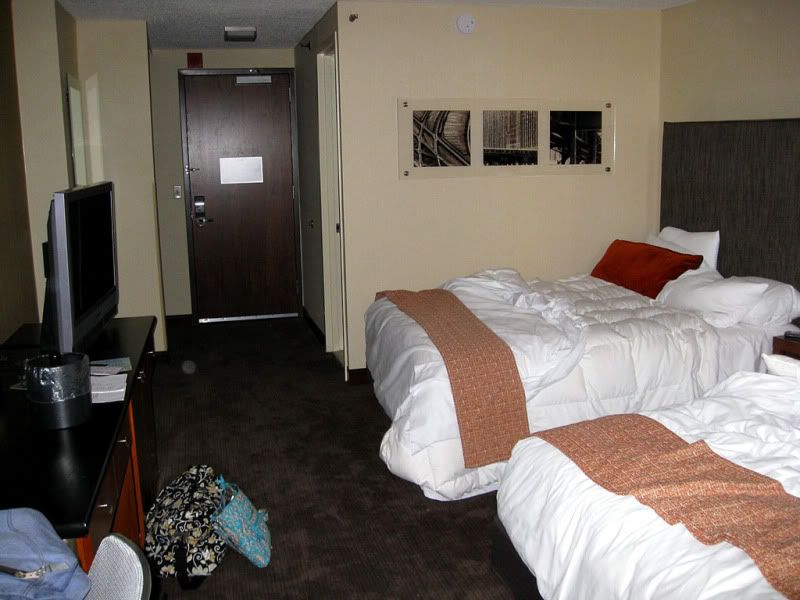 The room from the window.
So, would we chose to stay here again? Probably not. It's a bit far from our usual Chicago sites, although we did walk everyday. It is a good location for walking to shopping along Michigan Ave. though.
The room as a whole was nice. However, I did find some small issues that I didn't think I should find in such a nice hotel.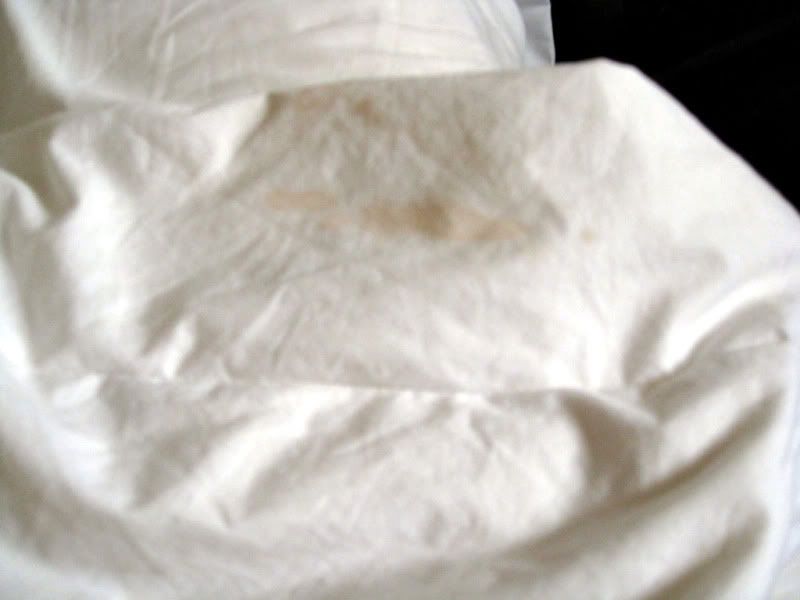 That's a stained comforter from one of the beds in our rooms. It appears to be coffee. (I really hope that was coffee!) I found it while taking the bed apart to go to sleep. How did a maid miss that while making the bed? And shouldn't the room have fresh bedding since we were checking in that day? So this comforter went through the laundry and it still made its way back to a guest room? Not something I expect to see in a 4 star hotel.
Other issues?
The bathmat in the bathroom had a hole in it. Again, not the quality I expect from a nice hotel. A motel, sure. A Hyatt, no.
Used coffee grounds in the coffee maker. We don't drink coffee, but I'm nosy and I was checking out the coffee maker. Nice to know that the maids don't clean it.
The full-length mirror in the room was dirty. Minor, but it looked as if a child had been playing with it and left hand prints all over the bottom. It only bothered me because it made me wonder what else the maid had skipped cleaning. (I found out when I opened the coffee maker.)
The water in Chicago is terrible. We were next to the river and I started to suspect that the water came straight from the river. Definitely bring bottled water if you want to drink any.
The channels available on the TV were very male oriented. Several different ESPNs and other sports related channels. No food or home channels.
It was a $1 to make any kind of call on the phone. Even a local call or a 1-800#. I have never seen that before!
We tried to check-out on the TV, but it didn't work, so we had to go downstairs and wait in line at the counter to check out.
Also fun, there was a conference going on at the hotel on our last day for Rwanda Day. This included a visit from the current president of Rwanda, who is not exactly a popular guy. I found this out when I had to walk through protesters in front of the hotel when we left. Exciting.
Overall, the Hyatt Regency Chicago is an OK hotel to stay at, especially if you are attending a conference there. Just make sure you look over your room first.
As for me, I'd rather be at the Hilton Chicago .