Although my wedding recaps are done, I wanted to share with you some of the details from our wedding. I worked hard on many of these little things and my photographers took such great pictures, how could I not?
Today I'm sharing with you some details from when I got ready.
Let's start with one of the most important details...
My gorgeous dress. Here it is on the porch of the house I grew up in.
I've previously shared with you my numerous shopping trips to find this dress when it was actually the very first wedding dress I ever tried on.
Just a reminder, it is Casablanca 1930. Normally, this dress is a halter, but I had it altered to have straps. Casablanca is a great company if you want to really personalize your dress. I bought my dress from Bernardo's for the Bride in South Bend, Indiana. I really loved their customer service and they have a great selection of dresses. I highly recommend them if you're looking for a wedding dress in Northern Indiana. If you're from the area and want to know what shops I visited, let me know and I'll tell you what I thought of them.
I loved the sash and brooch on my dress. And the lace. Oh how I love a lace wedding dress!
Here's my something blue - my shoes! I love how creative my awesome photographer is. The shoes are by Liz Claiborne and I got them at DSW. They are
still available
and do come in other colors. I ended up ordering them online because they never had my size in store in the navy. I ended up getting some good discounts and only paid about $20 for these shoes. Which makes me happy because I love a good deal and I'm not sure I'll get much wear out of them. I think I've only worn them once since our wedding.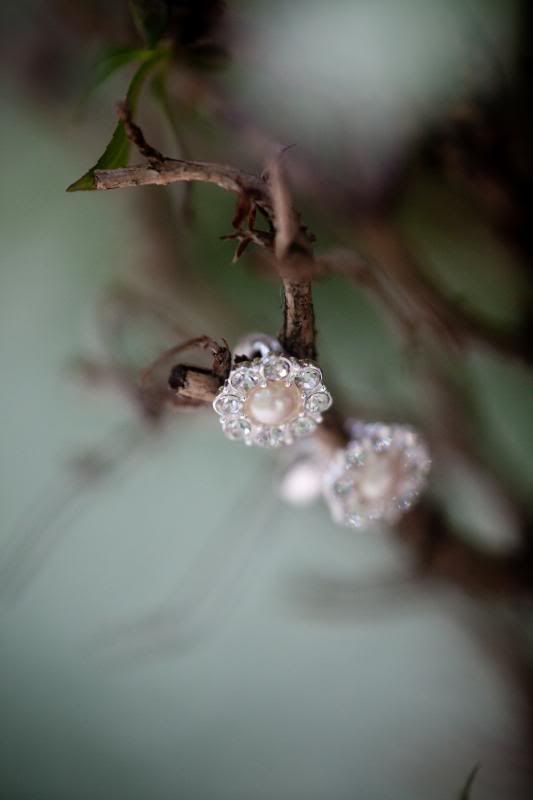 Here's my earrings hanging out on a bush. Love the creativity. I don't remember who made these, but I think my mom bought them at Macy's. She bought all my jewelry for me and the pearl necklace and bracelet came from Macy's. Sadly, I don't have any detailed pictures of those, but you can seem them in various pictures throughout the wedding.
They are clip-on earrings because my ears aren't pierced. I still wear them and the other jewelry for special occasions. I wore them all to my brother's wedding.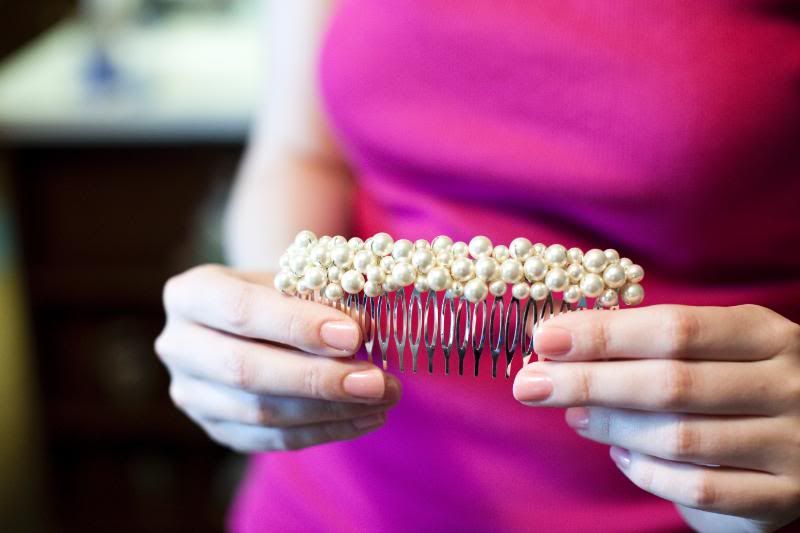 Here's my hairpiece. I ordered this from the Etsy shop
Fine & Fleurie
(she had another name when I ordered) and I do recommend the seller. It's a great piece, very well made and very pretty. Even her packaging was pretty! I wore this above my veil.
You can also see my manicure in this shot. I had it done the day before at a shop in the mall. I wish I knew what color that was because I'd love to own it, but I had bridal brain at the time and didn't think to remember it. This shot right here is why I got the manicure. I knew my hands would show up in detail pictures and ring shots and I had to have nice nails.
Speaking of my headpiece and hair, here's a shot of my hair when it was done.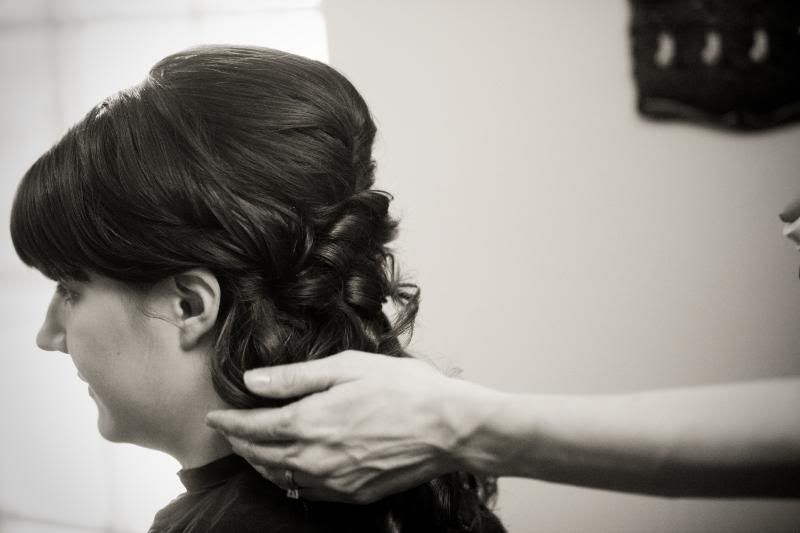 We hadn't yet added the comb or veil. I loved the volume in the back and the curls were great. Too bad it ended up being such a humid day and my hair lost all curl later. My usual stylist came to us and did all of our updo's. If you live in the area and want her info, let me know. She loves doing wedding hair and I'd love to give her a recommendation.
I don't have a detailed shot of my veil, but it's pretty obvious in most pictures of me. I ordered it through my bridal salon. They gave me a credit towards a veil or tiara for buying my dress from them, so I ended up only paying $25 for my veil. I picked it because it has beading on it that was pretty close to the beading on my dress. It's En Vogue Style #500W in ivory. It's a 2 layer, waist length, circle cut veil.
I also don't have a shot of my garter, but I got it at Hobby Lobby. I probably even used a coupon or it was 50% off. I bought it because it was lacy and reminded me of my dress. I'd take a picture of it for you myself, but I don't actually know where it is currently...oops!
Next week, I'll tell you about our rings!
All photos by
Amanda Fales Photography
.